A laggard in the pandemic?
It took 98 days to reach 100,000 cases, 18 days to arrive at 200,000, and then only 21 days to double again, to 400,000. As of July 6, the coronavirus has claimed 11,372 lives. While I am writing this, the number of cases is about to pass half a million.
The COVID-19 pandemic is accelerating fast in Africa. Mrs Matshidiso Moeti, WHO's Regional Director, issued this warning on June 11th. One month earlier, the WHO had forecasted for the African Region (around 85% of the continent's population) 190,000 deaths in the first year of the pandemic. Between 29 and 44 million people would get infected. That is: if no containment measures would be taken.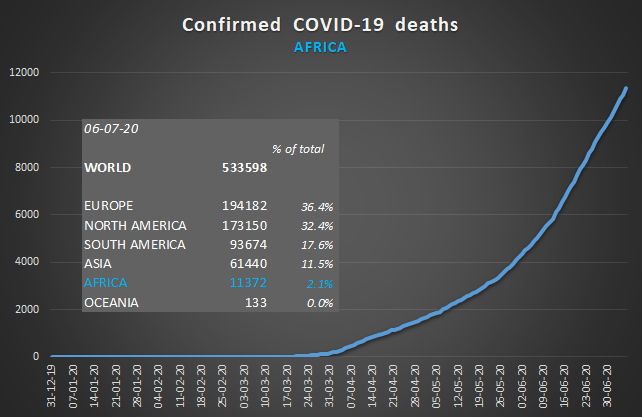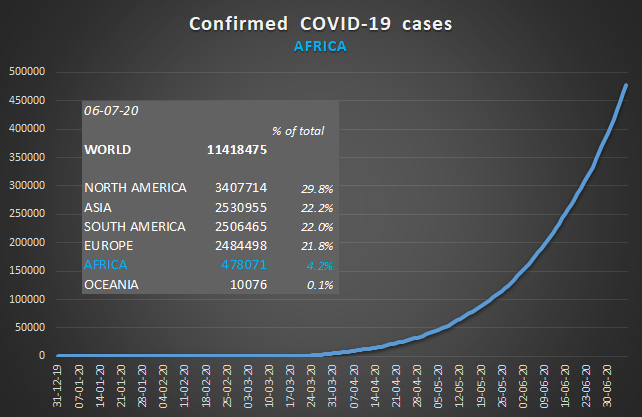 Frightening numbers, which become a bit less so when put in a global perspective. Africa as a whole accounts for 2,1% of global deaths and 4,2% of all cases. The continent counts 9 deaths per 1 million inhabitants. This number is only a fraction of the figures for Europe (253) or North America (295).
Fighting its way through
There are good reasons to believe that Africa will be less touched by the pandemic than other parts of the world. Infrastructure, social factors, less mobility, and a younger population should lead to lower transmission and mortality rates. Pandemic preparedness of the continent is an asset – it has had its share of viral outbreaks. Finally, if climate influences propagation of the virus, then Africa's generally hot and humid climate should play in its favor. No need for worries then?
SARS-CoV-2 set foot in Africa mainly via people arriving from Europe. Initially, the virus touched disproportionately the political elite of the various countries, vulnerable because of frequent travelling. The first fatality of the pandemic in Sub-Saharan Africa was Mrs Rose-Marie Compaoré, parliament member in Burkina Faso. Mr Pierre Nkurunziza, Burundi's president, is rumored to have died of COVID-19, although the official cause of death was a heart attack.
There have been countless positive cases of government officials, at times with a cynical twist. On May 20, all 15 members of the South Sudanese corona task force had tested positive for the virus. A week later, the new chairman of the committee was tested positive as well.
But the virus did not stop at the elite. It is about to make its way through the entire population.
Vast and diverse
Today, two countries alone, Egypt and South Africa, account for 58% of all COVID-19 deaths and 57% of all cases recorded. Other countries report again surprisingly low numbers. This could be due to the virus not having spread yet to certain parts of Africa, to insufficient testing or incomplete reporting, and probably a combination of all 3 factors. Not to forget: it could be that a government has simply implemented effective health and hygiene measures.
African countries with highest COVID-19 death toll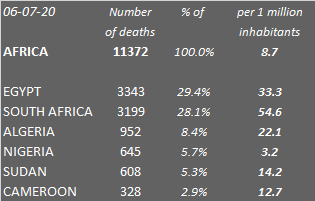 African countries with highest number of COVID-19 cases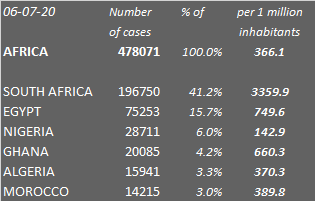 Government responses have been as diverse as the vast continent itself. A few of those were original at best, questionable at times, and made headlines. More conventional ones went unnoticed.
In Northwest Africa, Algeria and Morocco have had their eyes from the start on Southern Europe. Mid-March, both countries imposed a severe lockdown, with Morocco declaring a state of emergency which would last until June 10, and Algeria closing its borders "until COVID-19 ends".
Algeria and Morocco have been largely successful in controlling the initial spread of the virus. In the course of May and early June they loosened their measures. However, since two weeks both countries are witnessing a rapid rise of infections. This has prompted Algeria to reinstate a lockdown for 29 of its 48 wilayat (prefectures). Even now, the number of infected people per million inhabitants for Algeria (370) and Morocco (389) is still lower than the death toll per million in France (446) or Spain (605).
Tanzania did take early measures, such as closure of schools and restrictions of incoming travelers. Mass events, religious ceremonies went on unrestricted, however, and were even encouraged. On more than one occasion, John Magufuli, the country's president, claimed that the coronacrisis was overblown, that unreliable testing was to blame. The president saw further evidence of this after a goat, a quail and a papaya had supposedly returned positive test results.
The country stopped reporting corona cases and deaths. The last data on May 8 showed a total of 509 cases and 21 deaths. On June 8, Mr Magufuli declared his country to be free of COVID-19. He attributed this to the persistent prayers of Tanzanians of all faiths.
An exception in Africa, Burundi has hardly imposed any corona restrictions on society. The country was protected from COVID-19 by a special covenant with God, a government spokesman declared. On May 12, a month before his untimely death, president Nkurunziza expelled the four-man team of WHO-experts, apparently for interference with the country's management of the crisis. Today, Burundi officially lists 191 cases, one death only. No, not the president, that one.
The contrast with the governments' responses in Rwanda, Uganda and Kenya could not be starker. All 3 countries are bordering Tanzania, Rwanda shares on top of that a border with Burundi.
Rwanda (0.2 deaths per million) was the first African country to impose a total lockdown. The authorities also showed an innovative side when employing drones to bring home information on the virus to the people.
Equally fast and rigorous were the approaches followed by Uganda (0 deaths) and Kenya (3.0 deaths per million). Often not shying away from draconian measures, both countries have immediately taken a series of measures which included closure of schools, banning public gatherings, restrictions on travelling and even curfews. Given their size and exposure, these countries have been so far successful in controlling the outbreak.
In West Africa, countries such as Nigeria and Cameroon are struggling to manage the pandemic. Nigeria, the most populous country in Africa, was in April confronted with a flare-up of COVID-19 in Kano. The northern Nigerian metropole, home to around 5 million people, experienced problems in recognizing and then containing the viral outbreak. Partly because of language problems (most public messaging is in English), it did not succeed in implementing effective social distancing nor other precautionary measures. To date (06/07/20), the state of Kano reports officially 1268 cases and 52 deaths. However, it is common knowledge that these numbers do not reflect reality. Many corona deaths have been attributed to other causes and testing capabilities were insufficient.
Testing remains problematic in Nigeria. The country has carried out 0.719 tests per 1,000 people, against e.g. 10.83 for Rwanda, 70.1 for Germany, 109.5 for the US.
In Cameroon, the government has been severely criticized for its handling of the crisis. President Paul Biya, the world's longest-ruling non-royal national leader, waited until May 19 to make his first public appearance since the start of the crisis. This added to the overall impression that the authorities did not take the situation seriously.
Cameroon took its first measures on March 18, a full 12 days after the first case was reported. The country never imposed a general lockdown. Meetings of up to 50 people were still allowed. Bars and restaurants were only closed after 6 p.m. Masks were imposed only a few weeks later.
Much to the surprise of many, measures were again relaxed on April 30, sending a comforting, but wrong signal to the public. On May 1, Cameroon counted 1832 cases and 61 deaths. One month later, on June 1, both figures had more than tripled: 5904 cases and 191 deaths. Contrary to many other African nations, Cameroon missed an opportunity to contain the virus from the onset.
Overall, the continent has fared well in the first phase of the pandemic. But clusters, denial and defiance pose a real threat. Uncontrolled spreading of the virus might cause precarious health systems to crack, fragile economies to collapse. Africa may not become the worst hit continent of the world, but it has enough reasons to continue fighting the virus.
Download COVID-19 data for each African country in *.xlsx format
Sources
data on COVID-19 cases and deaths per country: European Centre for Disease Prevention and Control
data on COVID-19 tests per country: Our World in Data
data on COVID-19 cases and deaths in Nigeria, per state: The Nigeria Centre for Disease Control
(rvdk)