A closer look at the numbers (07/11/20)
Europe is up for some dark months: thus was the final phrase of our previous closer look at the corona numbers. In hindsight, this almost looks like a euphemism. Things got worse in Europe, and very fast. The number of cases has more than doubled in this one-month period. Among countries with more than one million inhabitants particularly Belgium (currently 811 new cases/7 days, per 100,000 inhabitants), the Czech Republic (751) and Switzerland (672) have seen an explosion of infections. At the same time, the virus seems to have spread quite uniformly over Europe. Austria, Bosnia and Herzegovina, Bulgaria, Croatia, France, Hungary, Italy, North Macedonia, the Netherlands, Poland, Slovenia, Spain all show an incidence between 300 and 500 new weekly cases per 100,000 inhabitants.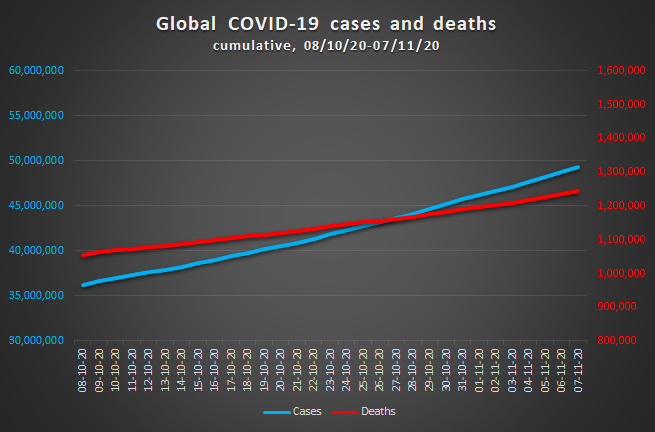 Still worse, Europe's death toll rose by 62,000, or 27%. Both its exploding number of infections and its higher death toll strongly influenced the worldwide COVID-19 numbers. Globally, the average number of new daily cases went up from 290,000 to 430,000 last month; the daily death toll was now 6300, up from 5200.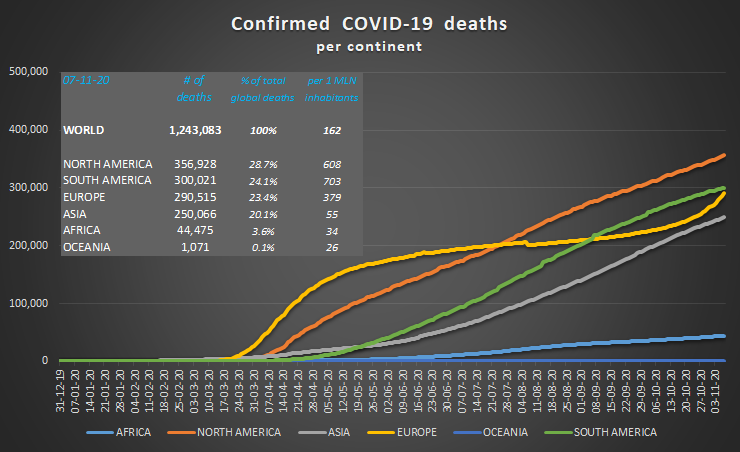 The other continents show less alarming figures than Europe. Remarkable is the rising death toll in Asia (+23%), almost at par with the increase of infections (+25%). This is partly due to India (21,007 more deaths; an increase of 20% versus 25% more cases). But not only. Iran (+9990 deaths, up 36% versus +38% more cases) and Turkey (+2169; +25% versus +19%) show similar trends, suggesting flawed statistics and too little testing.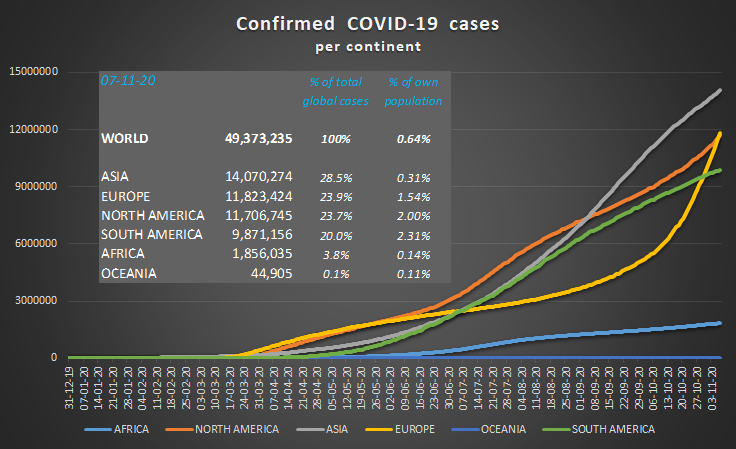 South America remains the hardest hit continent, both in terms of case incidence (2.3% of the population has been infected) and death toll. On the positive side, the pandemic seems to have slowed down here. Africa, officially, but definitely Oceania remains largely in control of the pandemic. The case incidence in Oceania (0.09%) is comparable with the mortality in South America (0.07%). Only Guam poses an exception. The island, with a population of less than 170,000, accounts for 11% (5113) of Oceania's positive cases and 8% (89) of its deaths since the start of the pandemic.
Finally, although Europe is today's hotspot, North America might soon follow suit. This year, Thanksgiving in the US seems more a reason for concern than for celebration.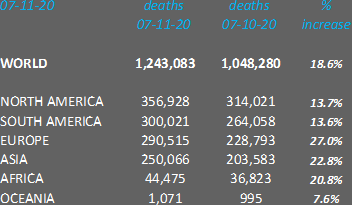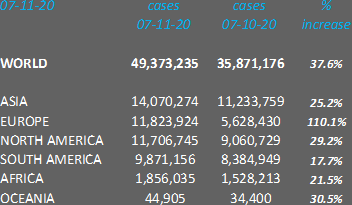 Sources:
Data: European Centre for Disease Prevention and Control
Title image: Khosro via Shutterstock
(rvdk)