Reflecting on 500,000 and 10,000,000
The world passed today not one, but two sad corona milestones: 500,000 deaths and 10,000,000 cases of infection. The two numbers seem to be at odds with each other. The true number of global infections is most likely much higher. Based on a mortality rate of e.g. 0.5%, a ten times higher figure seems more plausible. This assumes the death toll to be accurate. In most countries it is not, as the overmortality rates indicate.
Three months ago, eons in corona times, the Imperial College London published a study predicting cases and deaths around the globe for various scenarios. This study might act as a useful reference. it might also serve as a mirror for countries to assess their own pandemic response.
Without interventions, COVID-19 would have infected 7.0 billion people and would have killed 40.6 million people this year, according to the study. In the best case scenario, 1.9 million people would die from the virus. This could only be achieved by the rapid implementation of a suppression strategy. Such a strategy involves social distancing, massive testing and isolating infected people. The best case looked bad enough: 1.9 million deaths seemed unreal.
Back then – the paper was launched on March 26 – the number of infected people was about to pass the threshold of 500,000. That very same day, the recorded number of deaths reached 24,305. Three months later, these factors are 40 and 20 times higher, respectively. Warnings of the World Health Organization that the pandemic has not yet lost any of its momentum, have become only too common.
The best case looks all of a sudden dangerously close. With so many countries relaxing measures, we have our individual responsibility to slow down the virus outbreak. Social distancing and wearing a mask are part of that.
Patrick GT Walker, Charles Whittaker, Oliver Watson et al. The Global Impact of COVID-19 and Strategies for Mitigation and Suppression. Imperial College London (2020), doi: https://doi.org/10.25561/77735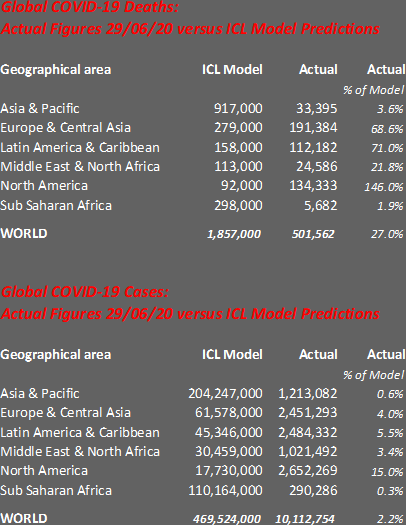 Note
The 2 tables above compare the actual corona deaths and cases (status 29.06.20) with the ICL model predictions for the first year. The split in geographical areas is the one used by Walker et al. in their work. Once more, the data illustrate that the true number of infected people must be much higher than the one reported, on all continents.
The number of deaths in Europe, North America and Latin America approach or even exceed (North America) already the numbers predicted for the entire year. This suggests that suppression strategies in these areas have worked insufficiently. The low figures for death and infections in Asia Pacific and Sub-Saharan Africa seem to be indicative of a fast and rigorous approach (-South- East Asia and Pacific) or the late onset of the pandemic (Africa).
(rvdk)